Date of publication: 28.07.2017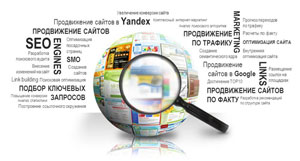 The question of promotion in the search engines is not new for entrepreneurs of small, medium and large businesses. Approximately 7-10 years ago about this tool very few people thought. However, with the global transition to online business, SEO talk about everything and aware of its role in the development of the enterprise. At the same time, this concept now includes not only the technical component, but also aspects of marketing strategies. Website promotion was different - it is understood not all entrepreneurs.
Are you ready for the promotion of their own resources, will be able to find good people and control the process? Moreover, to participate in it? The answer depends on the success and speed of promoting your website. It would not have wanted to shift all technicians still have to be involved. You - the captain of your own ship, your site. Check your commitment to work with SEO specialists.

What do you think: what should be the price for website promotion?
It should be noted that the various companies to promote the provision of services could work for different formats of payment. They may include: monthly fee for their work and references, the monthly fee for the work + separately for reference, payment for achieving certain results, or for the traffic of the target action. It is possible to agree on any convenient form, but in promotion price cannot be very low. Specialists for 2-3 thousand per month, alas, does not happen. Such prices are more like a joke or a frank deception.
Consider the example of a promotion with a monthly fee for their work and references. S / n SEOs about 10 thousand. It can simultaneously carry 4-5 projects (work in analytics and optimization). So, 2 thousand -. The cost of work on your Web site (if it is not a highly competitive niche and mega store). Add about 1 000 UAH. the links and 2 thousand - the work of the programmer, which is often required. E. 5000 UAH. - Average cost. Now add a margin of at least 50%.
Web site promotion ordered from specialists
When you are ready to promote the site, you will be very meticulously relate to the experts: a detailed study of examples of work, conduct meetings. Moreover, you yourself will need to understand the basics of SEO, so technicians do not spend time on your training. It is necessary to understand the terminology and the elementary principles of promotion to communicate closely with the contractors and understand each other.
If you need promote your book is from a company that openly engages in dialogue, ready to communicate each month on the results achieved and provides progress reports. Refer to those who just talk about cooperation, rather than "we do it - you cannot survive.
We give a guarantee." Understand how SEO can give you as a sales tool and attract audiences. Only then, you will be ready to talk in detail and to achieve results.


site-pro.top