Date of publication: 28.11.2018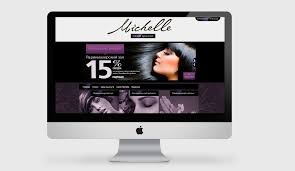 The main goal of a one-page website is to attract customers, correctly present services or goods and make a profit. Landing page for a beauty salon is no exception.
Landing creation
How to start LandingPage for a beauty salon? First you need to decide what you specifically devote landing page.
It does not make sense to offer a tanning bed, haircut and hair removal at the same time. It is necessary to understand what kind of service will be further promotion. Choose what interests you most. Then you can be sure that you will be able to cope with the impressive client flow that advertisements from the Internet will bring.
Next you need to determine who your target audience is. In addition, always remember that design needs to be done at the highest level. The next action is an offer. Think over what you can offer the buyer.
Making an offer
Your potential clients will appreciate if you will talk to them in the language of benefits.
In the beauty salon masters provide various services. Given the information from the landing, it is important not to be sprayed on everything. Focus only on something specific. If you describe all services in detail, users will be confused. It is likely that you will scare away and lose good potential buyers. Landing Page for a beauty salon in Ukraine helps to focus user attention on various interesting promotions and offers.
Your one-page website will have a positive effect:
bright and professional shots;
airy and sophisticated headers.
The reader should be clear what you are saying to him. The text of the proposal must be written concisely. In this case, the information should encourage action. A quality landing page for a beauty salon on the Site-pro.top site implies not only listing the reasons why a client necessarily needs to use specific services. In the selling page, you must also answer the question - how to make a potential client comfortable and convenient.
If you take into account the factors listed above, you can create a truly effective and interesting one-page. Conversion on it will be great.
You can order a landing page for a beauty salon in our web agency. Experts know how to make an intelligent design that will attract hundreds of potential customers. Content on this site will be high quality and useful. How much will the development of such a landing? Call the specified phones, tell the consultants what you want, and they will calculate the final price for you.
site-pro.top