Date of publication: 24.02.2018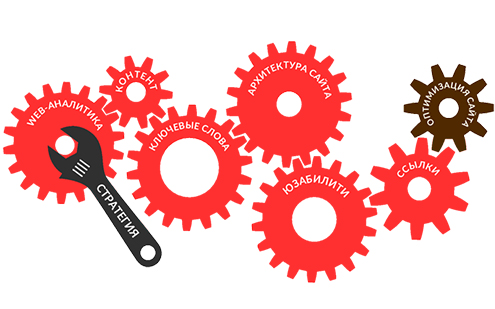 Optimization, promotion of sites search engines
The main specialization of the company "Site-pro" - attracting potential customers, increasing sales with a guarantee of results. How? The promotion of the online resource is the most effective way to attract potential users online. Optimization, promotion of sites search engines - a complex of activities carried out on Your website to improve the visibility of online search engines (Yandex, Rambler, Google, Mail). What is the visibility of a website? A link to your website appears in the first search results (Top 10) for the keywords (phrases).
Professional website promotion
What kind of activities do we do when we promote the site:
Selection of keywords, phrases for finding an accurate and commercially correct description of the firm's services and the subject matter of the site. Search and correction of errors, filling the site with content, external optimization and much more. Professional website promotion is an "improvement" of the site inside and out. Work with usability, the website information content (writing texts), the ordering code. The result of this work will be the easy indexing of your site by search engines, the site becomes more concise and understandable for users. Promotion of the website according to certain key words in Yandex, Rambler, Google, Mail.ru. A complex process to increase the base of the external links (installation, purchase of external links to your website). Increase the "weight" of the site for search engines.
Optimization website promotion
Also, results are necessarily analyzed, correction of work is carried out, as search engines are constantly changing and evolving, the search engine algorithm is also constantly changing - also we are not standing still. For competent work and achieve a stable result for optimization and promotion of sites our experts conduct daily monitoring of the position of the words of a website in search results, for which we use the software of its own production.
Contextual advertising. Optimization, promotion of sites the process sometimes is not fast, for an instant result best suited to contextual advertising. This is a paid placement ads in the search results. We also recommend combined use: contextual advertising + promotion of sites. We will develop a plan for conducting a campaign, will find and place ads.
site-pro.top