Date of publication: 04.01.2017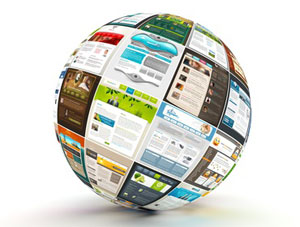 Site card - a resource that introduces the audience of Internet users with your company. If the organization sells goods, often in addition to the store and made business card. At this resource is available from the company's history, the range of its services, offers of cooperation and sections for investors. Order a small website owners can be centered on the notion of a narrow directional range of services. For example, it may be a picture or tattoo parlors.
Site-card - usually a small site with many pages 7 to websites where users can be acquainted in detail with every kind of product or service - this is the corporate website. It is more extensive. On this site, it is already possible to order a specific service. For example, it may profit SPA centers and sports complexes, which contain a variety of directions.
Site card Kiev. What kind of resources do you need?
The main purpose of a small website - to make a positive impression on a potential customer or partner. Since the sections on such a resource is small and the user is relatively easy to navigate the pages, you can bet on interesting design. However, it is also important not to be too clever by half, and not to alienate the visitor. Site card Kiev - is a modern life with many high-quality photos that will present your company, services and team. Now the relevant site pages long on landing type that can put a maximum of useful information, graphics, and animation effects. This user experience is not overloaded. Our team develops business sites on the best and most adapted to the needs of today's Internet user CMS system
How long does creating small website
Fulfillment of your order time can vary, depending on the purpose and design. If you choose to use a template option, the cost will be lower, and the terms will be reduced to 2-7 days. If you pursue the goal of the original design, the implementation of its quality may be required from a week to three. In addition, the terms will be prolonged if necessary to implement custom functionality.
Making a small site by our specialists - a carefully tuned process and coordinated work of programmers and testers. In use, we are renting a fully functional life, ready to be filled and content for the launch of the online network. To order a business card site, please call or send your technical specification for the post. After consideration, we can say the cost and timing of your project.
Please contact us to have your business card on the Internet attracted loyal customers and beneficial business partners.
Site-pro.top