Date of publication: 28.11.2018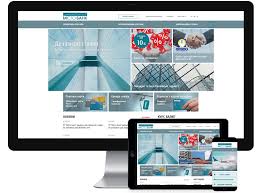 The site for the bank must perform special functions. He not only acquaints potential clients with the bank's services, but also does everything so that potential clients become interested and come here for this or that service: loan processing, profitable mortgages, deposits, etc. Website creation for a bank in Ukraine is very popular with managers, as it allows in the shortest possible time to market banking products and attract customers. Creating a website for the bank on the site Site-Pro.top is professional, convenient and profitable!
The site for the bank has a special technical structure and an accessible interface, thanks to which the user can easily understand all the options. The site must be a system of "Bank-Client", which provides full feedback to visitors. In order for a client to calculate his interest on a loan or deposit in advance, there must be a financial calculator on the site: this way the client will quickly determine the service and understand what is really beneficial for him. After reviewing the information on lending, the client will immediately be able to calculate how much this loan will cost him, without leaving home and not visiting the bank office - what could be more convenient?
The main functions of the banking site are:
Informing customers about services.
Ability to get feedback online.
Ability to perform a number of banking transactions through the site.
In addition to the online settlement function for customers, the bank portal should have sections with information about the service, presentations of new banking products, current promotions, various types of deposits and loans. It is on the site design that the client's first impression of the bank depends and whether the visitor comes to the bank next time. The factors that determine the success of a banking site are tastefully executed design, extensive functionality and an intuitive interface.
If you wish to order a site for a bank, contact Site-Pro.top via the feedback form. A manager will immediately contact you to clarify your wishes and offer several design options. You will select a template for the bank site, agree with you on the design of the control panel, online calculators and other useful options. The price of developing a site for a bank will depend on the degree of complexity of the structure, design features and the total amount of work. Experts give a guarantee on the performance of work, so for any technical questions you can always contact the webmaster.
Site-pro.top