Date of publication: 28.11.2018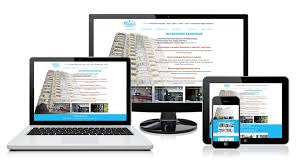 A website for a construction company in Ukraine is the best way to promote a construction business online, reaching the maximum audience in the shortest time possible. On the construction Internet portal, potential customers will be able to familiarize themselves with the company's activities, the list of services and the cost of a particular type of work. You can order a site for a construction company on Site-Pro.top if you want the work to be done competently and professionally, and your company's rating in the network has grown in just a few days.
Site-Pro.top specialists have in their arsenal a variety of tools for creating an effective website that will powerfully promote your business on the Internet and attract the attention of potential customers. Web designers will develop several site layouts in terms of design, graphics and presentation of information, and you just choose the one that suits your taste. The main thing that will be taken into account in the design development is the functionality of the site and the availability of the information provided to customers. The interface will be designed in such a way that customers can easily find on the site what interests them.
A site for a construction company is a whole store of advantages for any businessman:
the ability to quickly create a database of customers;
finance savings on advertising and office rent;
the ability to constantly update content and acquaint users with new products and services of the company;
a chance to make a statement to the whole country, without territorial restrictions;
the ability to always be in touch with customers, advise people, help navigate the choice of goods and services;
the ability to easily find partners and cooperate with them remotely;
Thanks to their own websites, many construction firms were able to form a permanent clientele for themselves, find partners and earn a good reputation. If you wish to order a site for a construction company, contact Site-Pro.top via the feedback form. To create a site you will need to provide a complete list of your products and services, photographs and contact details. The webmaster will offer you several templates for the site of the construction company, several options for the header, and will make several site layouts for you, and you will choose the most suitable one for you. The cost of services will depend on the degree of fullness of the site, the level of complexity of graphics and the total amount of work.
When creating a site design, everything will be taken into account: graphic design, page layout, the presence of a search filter in the catalog and other nuances. If you need to adjust something in the work of your site, you can always contact a specialist for improvement. We are waiting for your applications and are ready to help you effectively in promoting your company!
site-pro.top