Date of publication: 21.12.2017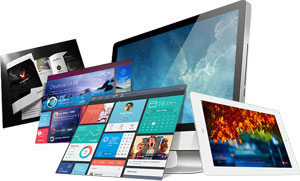 The format of the website depends on its direction and mission that he must fulfill. In this article, we will analyze what are the main areas of expertise in the field of creating websites.
The website creation business cards at a low price
The first and main trend on the vastness of the entire Internet at the moment are more web sites landing pages. Copyright is preferred. It's just that the format has been familiar to everyone for a long time, but we are talking about successful projects, not about what has long been forgotten and now does not work.
The website creation business cards at a low inexpensively is possible, but most likely it will be the standard template, no special design decisions, and your business it will not give proper result. The main task of the landing, in the usual version – to emphasize the features of your product, service or company, while reporting the right  information. The problem is simple only at first glance. As the customer is always right, we undertake various projects with small budgets and even very noticeable. However, as business card is the face of your company, it is not advised to use the package "economy". Better leave all the work to professionals and then evaluate the adequacy of the final figures.
The creation website shop the price
Quite another matter – a fully functional online store. This is much more difficult programmatically, as opposed to business cards. This resource is the most expensive of conventional web resources. The fact that the Internet shop contains a lot of automatic modules, which complicates its structure and functionality. Therefore, for the creation of a site of shop the price is more than 1500$ is justified. Of course we don't call the final sum right now. In the process of communication may be that your project can be implemented at less energy cost to the plan, and all of this can greatly reduce costs. However adequate the average price for a great resource is about. We can offer you alternatives, such as ready-to-use database for your store. All of this can be clarified during a personal consultation.
The creation of a company website
Corporate resources – usually the most ambitious projects. Really all depends on wishes of the customer. The most complex implementation lies in building their own internal automated Internet network. However, if you are interested in creating enterprise site with only a representative purpose, this task is not much different from designing a web site, landing. In any case, we will listen to all your wishes, and prepare a decent offer for an adequate price. The only thing required from you is a clear vision of the final result taking into account all the objectives that will be accomplished this web resource. And also it is necessary to formulate and the plans on for the future in order to take into account the possibility of expansion.
site-pro.top