Date of publication: 28.11.2016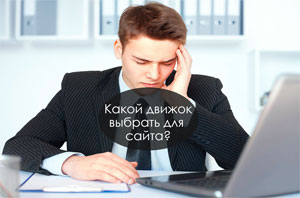 The success of modern business, to some extent depends on its presence in the Internet. Previously, people in order to find a specific store or company to provide certain services, read announcements, skimmed a thick reference books, the modern man is looking for on the Internet. Therefore, you want to succeed, place your internet portal on the web. Internet site - a great advertisement in any service sector.
In order for your site to be effective and easy to run your online business, be sure to take advantage of ready-made content management system - CMS. Every system we are finalizing the client's needs as well provide individual and unique design. Using a CMS to manage the site more than easy. Now you do not need to learn multiple programming languages, consider all the nuances of the site building, you delve only in the process of doing business.
Content management systems are used for small sites, as well as for huge portals.
Today there are a lot of various proposals the CMS, in what is opt to resource management process was a convenient, clear and effective? You want to get a certain result, this should be based on professionalism, quality of services of the company, to reviews, etc. We are not the first year of work in this area and guarantee the quality, comfort, efficiency and unique CMS.
We are pleased to help make your website an ergonomic, intuitive and efficient in our management system.
Site-pro.top