Date of publication: 03.01.2017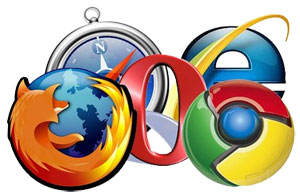 The most popular type of site is considered an online store. On the Internet today you can buy anything: from pens and ending yachts. Food, beverages, cosmetics, drugs - we do not soon have to leave the house to buy bread! It is clear that a large demand for goods and the Internet are now buying everything. However, the creation of the Internet site, such as a store, causing the most problems at the start-up entrepreneurs. There is many mistakes when choosing a niche. The main question, "What to sell" causes most difficulties. Wrong choice of the scope of trade may result in a waste of money. Therefore, if you just "think" the idea of creating an online store, then revise its niche again and ensure its future profitability. Analyze your target audience to pay.
Service development sites can always be found. But what do you sell?
In this regard, there are three most common mistakes. You decide to sell:
The fact that all (most popular);
That which is very little demand;
All at once.
In the first case, on the market there are many competitors, of which 20% - a large well-known leaders of the market, which you will not be able to move for a long time, 40-50% - this medium-sized businesses, with a certain authoritativeness, they have more money on advertising and promotion . You will, in this case the development of services and sites may not be necessary. The only "but" can be an impressive start-up capital, clearly painted a business plan and favorable terms with the popular product suppliers.
Goods with a small risk of demand did not become popular. You will be engaged not in order to sell - and the creation of demand for their goods. And it is required significant waste. Place your bets on a wide range - is not the best choice. This will require more effort during the filling of the site, working with suppliers, and store promotions, where they sell all, is somewhat complicated.
Our studio creating websites recommends...
The first thing you need to start selling what you are an expert. If you, for instance, are fond of sports and healthy lifestyle, you can try to sell something from the health and sports sector. You can start from a narrow segment with an average competition, but their stand to expert. For example, you can choose higher quality products; provide useful content on the site, etc.
In addition, our studio creating websites is not recommended to start with the goods with a small margin. The new store has to sell goods for a large profit, a minimum of 100%. This will allocate enough budget for advertising and promotion. But this does not mean that your price should be twice that of the competition - you need to find good suppliers.
If you have already decided that you want to sell in your online store, please contact us. We can help make your site more selling. Call us!
Site-pro.top