Date of publication: 05.01.2017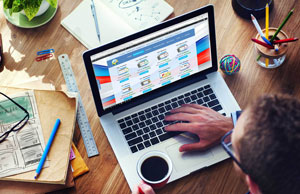 Development of the site today are necessary for each business. If you are not represented on the Internet, you lose a very large segment of the market that can bring you a good profit. Most of today's buyers - people advanced and Internet users who value their time. For the majority of may best make purchases over the Internet. Therefore, web site development for a long time has passed to a new level. Each online resource has to be adapted to mobile devices. After all, you never really know from where you come to the user: With a PC or smartphone.
This section is called the development of adaptive layout. It is preferable for small shops, corporate sites and sites of business cards. For online hypermarket is necessary to develop the site and in addition a separate mobile version. Easy adaptation will not allow to place content optimal and safe for the user.
Creation and promotion of sites - the basic tools to attract customers
Not develop a good online resource. It is important to make it "visible" to the user. Moreover, it is quite difficult in our competition, where in addition to your website there are thousands or tens of thousands of resources in this range and demand. To get into the top 10 of search engines on specific user requests, you must be in the complex creation and promotion of sites. Indeed, these two services are the best to book with a company, especially if your site is designed property development unique system. The fact that an important part of website promotion - is it correct internal optimization. To carry out its configuration can be difficult when the CEO specialist unfamiliar code to your site and it has certain nuances, familiar only to the programmer, who worked on the resource. It happens that your website must be designed to accelerate the work. To do this, you must also understand the software part.
Create site in Ukraine
Our team is developing online resources for the Ukrainian market is not the first year. We are well aware of what the user wants, going to a particular site. Programmers implement all the features according to the concept and standards of usability. At the same time the development cost we have quite acceptable. Terms are always negotiated individually and depends on the complexity of the project. Creating site - this is our priority, so we are trying to carry out the task with utmost responsibility. We offer further technical and information support, so you can always contact us with questions or for modifications.
To discuss your project, call us at the contact number or send a technical mission to the post office. If you do not have TK, the most accurately and fully express their goals and wishes so that we can together develop the leadership and problem for programmers. Call us!
Site-pro.top