Date of publication: 09.01.2017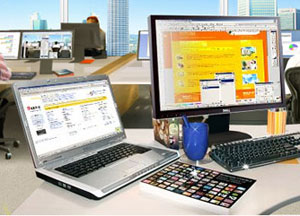 Our team is developing sites for the Ukrainian market according to fashion trends and the needs of your target audience. Before you create a website design, you need to examine your user: what are his preferences, what kind of mood he can experience when visiting your site; it wants to see in the first place. Site development starts with the layout for the designer - what and where you want to display a site where there should be video, photo, and where the text. When understood the general concept of an arrangement of elements and semantic content of each page, you can start drawing a unique design. If you decide to use a template, then choose the one in which larger functional modules than you need, and not vice versa. Excess can always be turned off.
Order website: what steps to create and how to wait
Time of the project depends on many factors: the complexity of the development, deployment design, the need to develop new features, and more. The exact dates can be said only after reading your technical specifications or after detailed discussion at the meeting. Briefly describe the stages of development miss the individual intermediate steps, then after you have decided to order a website:
The design will be developed according to TK;
Approval of the design;
Nesting Site - embody the true picture;
The software part - is to work with the code on your site;
Testing for performance;
The modifications, if necessary;
Running on hosting.
If you want to promote your resource in search engines, it is not superfluous to order the internal optimization of your web site. After the successful launch of the site, we can also provide a range of advertising on the Internet.
Create site - not a simple matter
A really good resource that holds the user on their pages - is an art. On each landing is necessary to come up with and implement a kind of "clues" that encourages users to move to another section or an information blog and subscribe to your news. Create site - it is not just to make working life, which is similar to the hundreds of similar. It is important to implement their original idea. It may be more convenient filter products, interesting banner slider, various designers and calculators, which help the user to solve his question.
Our development team will help you to create just such a site. All your ideas, we can make a reality, and to introduce the site. Call us to order the rendering time and cost of your project!
Site-pro.top