Date of publication: 21.02.2017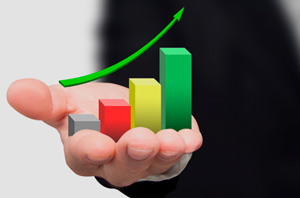 This service in our company is carried out by SEO specialists with 4 years work experience. We worked with subject-field websites, which were both high and low-competitive, we were engaged in promotion of positions and traffic promotion. The timing of getting into the TOP 10 on request in the search engine for each project is highly individual. Everything depends on competition in the market and, consequently, interest requests. Before ordering the promotion of the site, be prepared for the fact that this is a long lasted and constant process. Having a new website it is impossible to get into the Top in a few months, and if your business area is also highly competitive, for example, mobile devices or plastic windows, then even having a long-established site without proper optimization will not quickly get to the top. For each customer, a promotion plan is drawn up, the necessary requests are broken up into groups, and promotion starts from raising to the TOP of low- and medium-competitive keywords.
Professional website promotion in Kyiv
Using SEO you can not rush and make conclusions about progress, based on short-term results. Specialists conduct a lot of analytics, study competitors and their methods of promotion. Then, they analyze successful methods of promotion and apply them to the customer's website. We give you the opportunity to monitor the growth of positions through monthly reports on the executed work.
Website promotion in Kyiv is one of our main services, therefore you can be confident in the professionalism of our team. Also with the SEO, you can order from us the service of promotion of your social networks, which in fact, is an addition to the search engine promotion and makes the complex promotion of your website. So you cover the audience of their two segments: the search engine and the social network, which are the comfort zone of many users.
How much will cost the website promotion in Kyiv ?
The price depends on your goals, competition in a niche in the market, geography of promotion, for example, across Ukraine or only in the capital, or in certain regions. Also, contextual advertising and promotion of social networks is paid separately. Everything is calculated individually and we can tell the cost only after talking on the phone or after a meeting.
Website promotion in Kyiv with our team is the achievement of goals in the best possible time, this is a safe promotion. To discuss with us the cooperation, you need to call us or leave an online application. Manager will contact you and ask some questions that will help us to form an overall picture of the complexity of your project. Then, we will analyze sites and competition and will be able to discuss with you more specific deadlines for getting into the TOP of the requests and the cost. After agreeing the work plan, we sign the contract and begin work. Call us!
Site-pro.top