Date of publication: 05.02.2017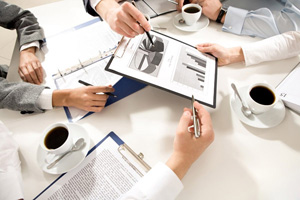 If you need to develop a site, you should clearly understand the purpose of its creation and the features that you want to see on a resource. Note, created by Google, the concept of Material Design. This concept combines the visual presentation and interface, that is, the logic of human interaction and the application or Internet resource. Professional website development today are increasingly faced with this concept, and actively uses it. The concept involves intuitive interface for all. The design does not use three-dimensional figures, but the effect created by layering the game of shadows and color combinations. Therefore, sites with Material Design look fresh, stylish and involve a high level of usability for the user. Would be the best websites, offering sophisticated services or products required infographics, he could just explain a complicated process.
What we can order a site in Kiev
Our company develops websites, business cards, corporate, Landing, large and small shops, as well as portals. All kinds of resources are carried out on the well-known and understood by the CMS or you can choose samopisny engine. It is needed if there is to be a non-standard functionality of the site. Here you can order a site in Kiev generic version or with an individual design. Our web designers, engineers can implement the most complex layout.
Timing of the task depends on the type of resource being developed, the presence of you full and clear terms of reference, the type of design (template, unique). After all the work on the programming, the tester checks the site of operation. Therefore falls to you is fully ready for work life.
Order website creation in Kiev cheap
Very cheap You will not make a site on a professional level. Over time, begin to fish out "glitches" fly function modules - can happen anything you like. But you might get lucky and everything will work fine. But if you do not want to risk your website and you need everything to work perfectly, then we are ready to help. Order website creation in Kiev, we can be really affordable, especially if the resource is in the template. This fast and inexpensive. We can provide individual discounts, for example, if you book with us more than one service, or you have a very large and interesting project.
To read the exact cost us at least need to know your needs, see the terms of reference. If not, please describe us your ideas, give examples, sites at a meeting or by phone.
To discuss the project, please call us at the contact number..
Site-pro.top